The Romanian Consulate of the Ordo Equestris Vini Europae, a member of the F.I.C.B., organised its Romanian wine knights Festival in Timisoara from 22 to 24 September 2023. Timisoara has been declared "European Capital of Culture" for this year. It is the capital of the Banat region in western Romania, with its renowned vineyards.
The Festival brought together participants from eight countries, including the governing board of the Ordo Equestris Vini Europae led by its Magister Generalis Prof. Dr. Ing. Alfred TOMBOR-TINTERA.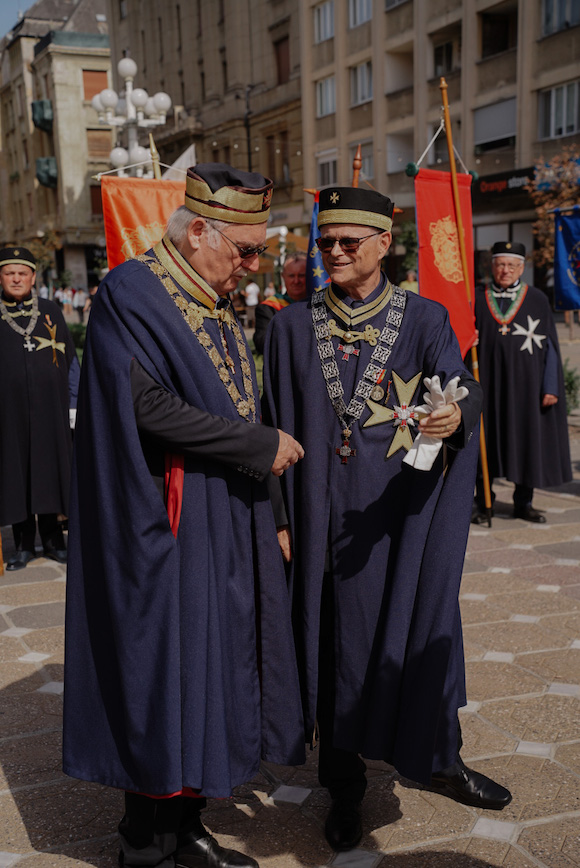 The programme opened with an academic session during which Prof. Dr. Dorin Popa gave a masterly lecture on the links between wine and culture and the importance of promoting them, particularly among the younger generation in universities.
At the end of the session, Alan BRYDEN, President of the F.I.C.B., presented Prof. Dr. POPA with the Diploma of Honour awarded by the F.I.C.B. Board of administration, with following mention:
"Internationally renowned oenologist, founding member of the Romanian Association of Wine Tasting Experts, author of numerous articles, particularly on the history of winemaking, the relationship between wine and health and the art of tasting". ulture, la relation entre le vin et la santé et l'art de la dégustation. »
Presentation of the F.I.C.B. Diplôme d'Honneur to Prof. Dr. Dorin POPA, and participants in the academic session
After this session, the participants were taken to the magnificent vineyards of the estate of Cramele Recas, the Festival's partner, which, with some 1,200 hectares, is Romania's leading wine producer. They were able to appreciate the diversity of grape varieties used and the quality of the wines produced, which have earned this producer a place among the top 100 in the world in 2020 by 'The Drinks Business' magazine. The evening program started with a professional presentation of the vineyard and the wines by sommelier Narcis Georgiu, and the dinner was also honored by the presence of two of the owners of Recas Wineries, Ioan Georgiu and Gheorghe Iova.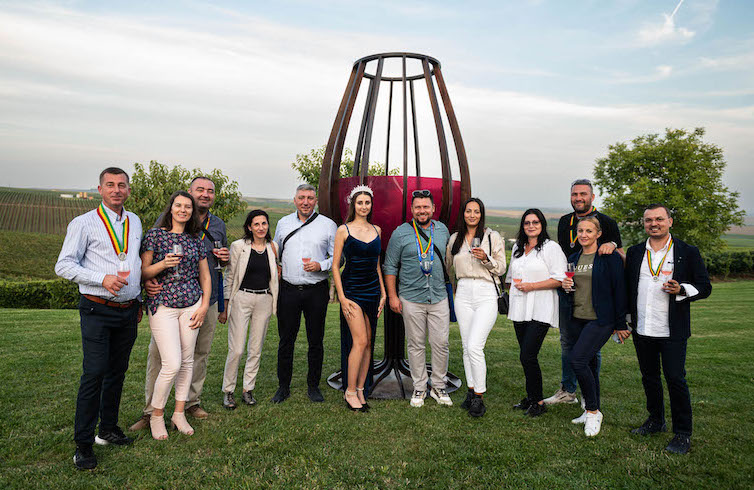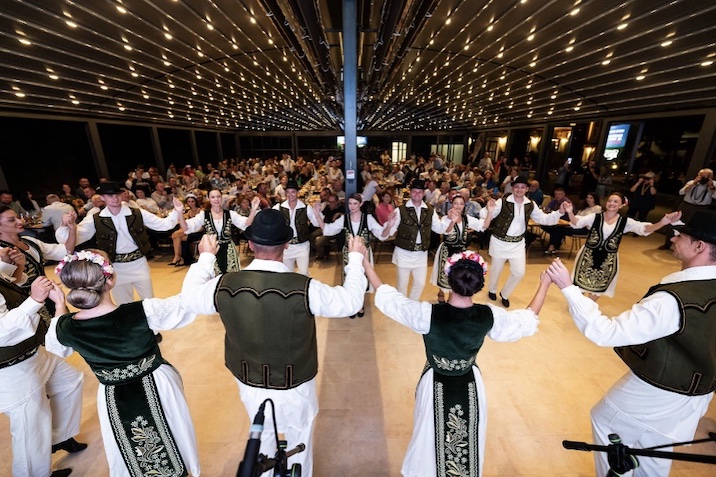 The next day began with a parade of participants in brotherhood attire through the city of Timisoara, with characters in historical costumes and even a cannon salute that impressed the large crowd! The parade was followed by a mass in the city's Roman-Catholic cathedral and the blessing of the inductees.
Tomislav KOVACIC, O.E.V.E. Consul of Slovenia and Alan BRYDEN Pr. Dr. Ing. Alfred TOMBOR-TINTERA leading the parade
In the evening, the gala dinner was held at the city's convention centre, an opportunity to honour all those who had contributed to the great success of the event.
Marius FARMAZON paying tribute to Narcis GEORGIU (Carmele Recas) …and the ball is open !
Click here for the PPT of the conference by Pr. Dorin POPA
Site du Consulat de Roumanie de l'O.E.V.E.: www.oeve.ro
Site of the Cramele Recas Wineries : www.cramelerecas.ro